I'm always looking for new ways to help Sabrina adjust to having a sibling and create a bond between my children, and I have to say that I've been pretty disappointed with most of what's available out there in terms of "new sibling" books. They're usually completely didactic with no imagination or plot and very predictable language. Their basic message is always either "never mind the baby, you're still #1" or "babies can't do anything but you can so you're still #1." Also, I hate that most books never show nursing moms, but instead present the baby being fed by bottle.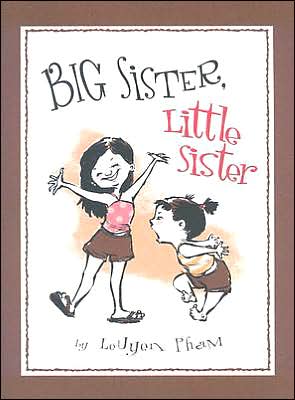 Here are a few stories that did do it for us. Many of these show a strong bond between siblings but also address and resolve some of the more difficult aspects of sibling relationships:
Big Sister, Little Sister
by
LeUyen
Pham
. About the things that make big and little sisters different and special but that also bring them together.
Adventures of Patty and the Big Red Bus
by Meghan
Mccarthy
. Two sisters drive a big red bus on a big adventure.
Dear Baby: Letters from Your Big Brother
by Sarah Sullivan. A little boy writes to his unborn sister and competes with his friend about who has the most wonderful new sibling.
Everywhere Babies
by Susan Meyers. All the nice things about babies and why they are so special to us. This book has been a favorite of Sabrina's forever, and came in very handy to talk about why Baby Cassandra is wonderful.
Big Sister and Little Sister
by Charlotte
Zolotow
. About a little sister who runs away only to find out exactly how much she is loved, especially by her big sister.
We Have a Baby
by Cathryn Falwell. Parents explain to a sibling what it means to have a baby. This book is one of the few I've come across that show a baby nursing.
And, saving the best for last, I came across this book by accident and had to order it:
My New Baby And Me: A First Year Record Book For Big Brothers And Big Sisters put out by the

Metropolitan

Museum of Art.
It's similar to the first year books for parents, but all from a sibling's perspective. Lots of charming pictures and nice questions and activities (for example, drawing the baby, tracing the baby's foot and their own, listing baby's likes and dislikes) that really get young children thinking about the new baby and taking pride in their sibling and their changing family. The book arrived in the mail yesterday and we've been browsing it and talking about the different questions and what kinds of pictures we'll paste in. Sabrina is very excited, though not as much as me--hours of engagement, a keepsake and a way to bring the girls closer, all in one, it's what a good + happy day is all about.